Your health, both now and in the future, depend greatly on the kind of food you eat. There are types of foods you need to increase and those you need to reduce. Have you ever considered ground turkey? High in protein, low in calories, and packed with B-vitamins, ground turkey is certainly one of the foods you should increase. It is not hard to learn and apply these recipes and tips on cooking ground turkey.
Best Ever Recipes for Ground Turkey
If you prepare ground turkey well using any of the following recipes, you are assured a solution to your meat cravings and at the same time fall within healthy dieting brackets. Read on for more recipe instructions.
1. Ground turkey burgers
Ground turkey burgers can make you forget other meat burgers completely. Here is the recipe to make them:
Place about a pound of ground turkey in a large bowl. Add all the spices you need. Some suggestions are onions, seasoned bread crumbs, garlic, salt, pepper, parsley, egg white, and so on. Knead them all together for two minutes to evenly distribute all the spices.

Scoop about 1/3 of the mixture with your hand, and shape it into a patty. Repeat the same to the whole kneaded mixture.

Put a pan on medium heat, add some oil, and swirl it around the pan when it is hot. This prevents the burgers from sticking.

Place the patties in the hot oil so that they do not touch each other. Allow each side to cook for three minutes or until it turns brown before turning it gently to the other side.

Serve the patties on buns. You can add mayonnaise, sliced tomatoes, ketchup, onions, or any other burger toppings you love.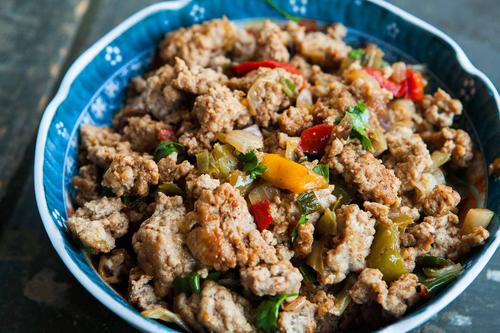 2. Turkey crumbles
It's simple by just following these steps.
Cook ground turkey in a skillet with a little olive oil using medium-high heat.

Use a spatula or a spoon, and keep turning the meat gently to break the meat apart. Cook until it all turns white. If you see some pink, it means the meat is not fully cooked.

Drain any excess fat by pouring the fat out or blotting it with a paper towel.

Add the cooked turkey crumbles to tacos, chili, or minestrone soup.

Heat all the ingredients well and later serve over some hamburger buns.
3. Plain ground turkey
Plain ground turkey is another recipe you can choose, and the steps are shown below:
First, heat the skillet for five minutes over medium heat.

Take the ground turkey and blot it using a paper towel to dry it fully.

Add about two tablespoons of olive oil or vegetable oil to the skillet.

Break the ground turkey meat into chunks (bite size) and drop them one at a time into the skillet.

Cook them undisturbed over oil until the bottom turns brown, and then turn them to the other side.

Remove them when fully brown and place them on a plate with paper towel to drain the oil.

Your plain turkey chucks are now ready. You can use them in lasagna, pasta, or turkey chili recipe.
4. Other ways to cook ground turkey
Italian turkey burger
Skinny burrito bowl
Italian sloppy joes
Banh Mi turkey burgers
Greek stuffed turkey burgers
Sriracha turkey burger and others
Tips for Cooking Ground Turkey
If you are wondering how to make ground turkey fit your taste, there are tips to follow. Ground turkey can be rolled into shaped burgers, meatballs, crumbled into a sauce, and more. Please read on for additional tips on how to store, choose, and prepare a good tasty ground turkey.
Choose proper ground turkey
When planning to cook ground turkey, first decide what to cook them with. Instead of eating ground beef that is high in saturated fat and cholesterol, you can choose ground turkey which is less in saturated fat and cholesterol level. This will help you choose the right type of ground turkey. A wrong choice will alter or spoil your expected taste and flavor.
Store ground turkey in a freezer bag
You can store the ground turkey in its original packaging, but if you want it to last longer, consider repackaging it in a freezer bag and then place it into a freezer. Note, when storing ground turkey make sure its wrapped with as little air as possible to avoid bacteria growth.
Thaw ground turkey in the microwave
You can thaw a ground turkey in the microwave or a bowl full of cold water. If you are planning on cooking ground turkey which is already thawed, you should do it for two to three days.
Seasoning properly brings a nice addition of flavor or spice to some food. By seasoning properly, for example, sprinkling salt, adding pepper, or addition of herbs or spices, you really do affect the ground turkey's end flavor.
Do not cook the meat too long
If you happen to overcook ground turkey, you will have lost its nice flavor. It will be crumbly and dry because of its lower fat content.
The Final Word
Armed with this information and the advice of a nutritionist, you can limit the number of calories you take in. Following the right ground turkey preparation recipe is crucial for taste, and substituting ground turkey for meat is crucial for weight management. It's a worthy option to take.