Salmon is a big part of many people's diets due to the fact that it packs a heavy punch nutritionally. The fish is rich in B vitamins and omega 3 fatty acids which are excellent for the immune system and brain function. It's also good for your heart, leaving you with a lower risk of developing cardiovascular disease.
However, raw salmon spoils pretty quickly, so you need to freeze it if you aren't going to eat it right away. The freezing process seals in all the nutrients, but cooking salmon can be a bit tricky if you don't want to lose a lot of nutrients during the process. This article will show you the ways for cooking chilled salmon and maintain its nutritional value.
Different Ways for Cooking Chilled Salmon?
1. Defrosting
To prepare chilled salmon for consumption, you need to first defrost it before you can cook it. There are different ways you can defrost salmon before you cook it, and the size of the fish usually dictates the time the defrosting process will take.
You can easily defrost salmon in the refrigerator. Simply wrap it in plastic and place it in a bowl in the fridge. Allow the fish to thaw for about 12 hours or so.
You can also try defrosting the fish at room temperature. However, this also takes time, and it is not advisable to do so because it promotes the growth of the bacteria within the fish.
The following methods allow you to prepare chilled salmon quickly, and different methods can sometimes provide a difference in taste as well!
2. Different cooking methods
The perfect method for cooking chilled salmon is by steaming and then roasting it in the oven.
You need salmon, oil, seasonings, and baking dish.
Step 1: Pat the fish with a paper towel to dry the surface, and then apply seasonings and sauce.
Step 2: Put the filets in a baking dish and cover with aluminum foil. Cook in the oven at 425oF for five minutes.
Step 3: After five minutes, remove the foil from the baking dish and return to the oven for another five to eight minutes. This ensures the extra steam evaporates and leaves the fish with just the right amount of moisture.
To prepare chilled salmon in a pan on the stovetop, you will need the fish, a skillet, olive oil, and your preferred seasonings.
Step 1: Remove any remaining ice by rinsing it in running cold water and patting it dry with a paper towel.
Step 2: Heat the pan to medium-high. As it heats up, apply olive oil to both sides of the fish.
Step 3: Place it in the hot skillet skin side up. After three minutes, turn it over and apply to the season to the side that is now cooked.
Step 4: Cover the pan with a well-fitted lid and turn down the heat. Cook on low for around 7 minutes, then remove from heat.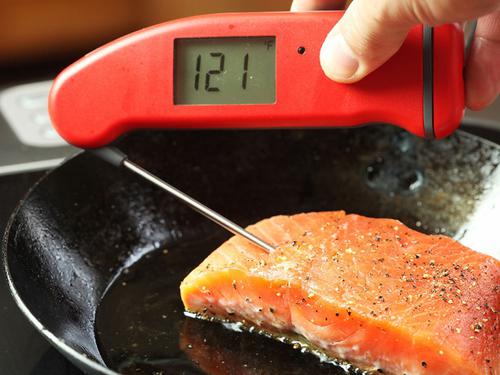 To grill a frozen piece of salmon, you need to have a grill, aluminum foil, oil, and seasonings of choice.
Step 1: Heat the grill to 400oF. While it is heating, rinse the chilled salmon and pat dry.
Step 2: Lay out a sufficient piece of foil and spray it with cooking spray. Brush both sides of the salmon with oil and lay the fish on the foil, skin side down.
Step 3: Fold the foil closed around the fish, and seal the edges. Place the whole foil-wrapped package on the preheated grill for 10 minutes. Remove from grill, and add seasoning, sauce, or marinade, and re-seal.
Step 4: Put it back on the grill for another 10 minutes, then check to see if the flesh is pink, ensuring that it is perfectly cooked.
To prepare chilled salmon in a pot, all you need is the fish, a deep pot, and cold water.
Step 1: Submerge salmon filets in a pot of cold water, place on stovetop, and turn the heat up to high. When the water starts quivering just before the boiling stage, reduce heat to low.
Step 2: Cover the pot and allow cooking for half an hour or so, depending on the amount of fish in the pot. When fully cooked, remove the pieces with a slotted spatula carefully, and allow excess water to drain.
Here Are Some Easy Salmon Recipes to Enjoy:
1. Salmon sushi salad
To make this salad, you need:
50g sliced smoked salmon
100g sushi rice
50g frozen edamame beans
A handful of pomegranate seeds
Sliced avocado
Ginger
1 sheet of nori
1 teaspoon of black sesame seeds
1 tablespoon of vegetable oil
1 tablespoon of soy sauce
2 tablespoons of pomegranate molasses
Steps:
Cook the rice in 200 ml of water by bringing to a boil then reducing heat to simmer for 10 minutes. Turn heat off, but keep the lid on for another quarter hour before transferring rice to a serving bowl.

As the rice is cooking, pour hot water over the frozen edamame beans, and crisp up the nori by putting it on an oiled pan for one to two minutes.

Drain beans and put them on the rice. Add pomegranate seeds, salmon, and avocado slices, then sprinkle with black sesame seeds.

Drizzle vegetable oil, ginger, soy sauce, and molasses over the entire dish as a dressing.
2. Teriyaki salmon with sesame pak choi
You'll need:
2 skinless salmon fillets
1 tablespoon sweet chili sauce
1 tablespoon honey
1 tablespoon sesame oil
1 tablespoon mirin or dry sherry
2 tablespoon soy sauce
2 tablespoons finely grated ginger
Brown rice or noodles (optional)
For the pak choi:
2 large pak choi (about 250g)
2 tablespoon vegetable oil
2 tablespoon sesame oil
3 garlic cloves, grated
75ml fish or vegetable stock
2 tablespoons toasted sesame seeds
Steps:
Preheat oven to 400oF. Mix together honey, sesame oil, soy, sweet chili, ginger, and mirin, then pour over the salmon in an oven-proof bowl. Bake for 10 minutes.

In the meantime, work on the pak choi. Separate the leaves by cutting at the bottom. Add garlic to an oiled wok and fry briefly. Add the pak choi until the leaves start wilting.

Add the fish or vegetable stock and cover for 5 minutes.

Serve the pak choi in a shallow bowl with the salmon in the top. Sprinkle with sesame seeds, and serve with brown rice or noodles.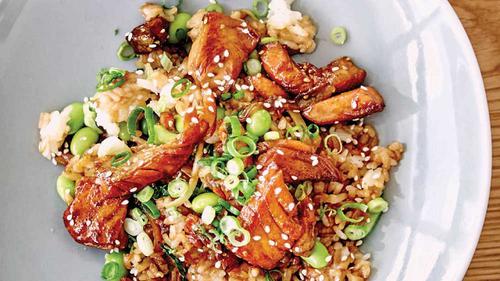 3. Grilled salmon with Chinese barbeque sauce
You will need:
1 tablespoon canola oil
1 tablespoon minced garlic
1 tablespoon minced ginger
1 tablespoon minced green onion
1 teaspoon red pepper flakes
1/2 cup orange juice
1/2 cup hoisin sauce
3/4 cup soy sauce
3 tablespoons honey
2 teaspoon sesame oil
4 (8-ounce) salmon steaks, 1-inch thick
3 cups baby spinach
Salt and freshly ground black pepper
Vegetable oil, for brushing
Steps:
Heat a saucepan over medium heat and add canola oil, green onion, ginger, and garlic until tender, then add the red pepper flakes. In another bowl, mix the remaining ingredients and add to the pan, then cook for 10 minutes.

Put some vegetable oil on the grill. Season the salmon with salt and pepper, and place on the grill. After 5 minutes, turn the fish and brush with the barbecue sauce. Leave on the grill for another 5 minutes.

Serve on top a bed of spinach.
Take Home Message
Salmon contains plenty of nutrients and freezing it preserves many of them. However, cooking chilled salmon can be tricky since it takes a while for the fish to thaw, but there are a number of ways you can cook chilled salmon quickly after you have defrosted it.