Emirates is an airline which was founded in Dubai, United Arab Emirates, in 1985. With more than 30 years of experience, Emirates Airline is the world's fourth-largest carrier. Emirates is often called the gold standard of commercial aviation and it's very obvious why!
I had my first flight with Emirates a few months ago and it's one of the best things I've experienced in my life! Everything was honestly perfect, right from the start to the very end. Emirates really only offer the best of the best for their customers.
As soon as I got on the airplane, I was immediately greeted by the plane's crew. They all had bright smiles and greeted me warmly. Then there's this built-in entertainment system in every flight and let me tell you, it's amazing! They have a vast library of movies, TV shows, and all genres of music. I even got to watch my favorite news channel live during the flight! But do you know what the highlight of my flight is? The meals. I don't think I've ever had such amazing airplane food before. Honestly, I couldn't help myself and asked for an extra croissant from a flight attendant because it was so yummy.
If you travel or fly a lot, you should definitely try flying with Emirates. Once you fly with Emirates, you'll be left wanting for more. So, in this article, I'd like to tell you more about all the wonderful reasons why Emirates is the best commercial airline and why you should definitely book a flight with Emirates for your next trip!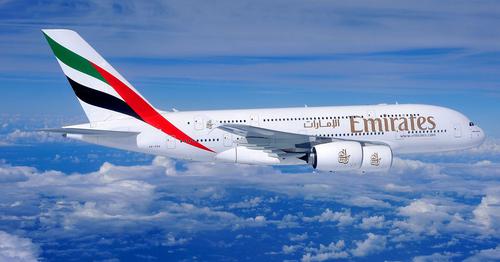 Amazing Features Offered by Emirates
Emirates didn't become the gold standard for commercial airlines for no reason. For more than 30 years, Emirates has been working constantly and tirelessly to improve their features and services. For me, these are the best features of flights with Emirates.
1. Fly wherever you want
From loud and busy Hong Kong to the tranquil Maldives, you can fly almost everywhere with Emirates! Emirates offer more than 140 flight routes connecting over 150 cities in 80 different countries. Want to travel and discover the wonders of the world? Let Emirates take you to your next destinations.
2. Impressive fleet
Emirates boasts one of the world's fastest-growing commercial fleets. They currently have Boeing 777 and Airbus A380 in their fleet. Fun fact: Emirates houses 76 A380 airplanes, the largest amount of A380 airplanes at any airline in the world. And by the way, it feels amazing sitting in one of those planes. I flew in an A380 and it was really spacious and comfortable.
3. Comfortable seats
Airlines are notorious for saving money by limiting seat spaces and making passengers uncomfortable. But that's certainly not the case with Emirates! They value the passengers' comfort and satisfaction above everything. So, you can be sure to get comfortable and spacious seats, even if you're flying in Economy Class. The seats were plush and soft, you'll also get plenty of room to extend your legs. So, bye-bye leg cramps and hello comfortable flights!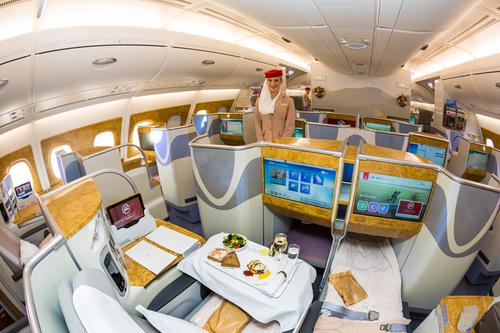 4. The most modern in-flight entertainment system
There's no such thing as a boring flight with Emirates! Each Emirates airplane is equipped with the largest and most modern entertainment system called ICE (Informations, Communications, and Entertainment). Want to watch live news during your flight? Want to catch up with your favorite TV shows or watch the latest movies? ICE has got you covered!
You can even watch the plane taking off and landing as well as follow the flight route through ICE. ICE also offers Wi-Fi for just $1 per 500MB for everyone who needs to stay connected to social media. Lastly, if movies and internet are not your things, you can also listen to countless radio channels or play various video games on your flight.
5. Wonderful service
Emirates employs some of the world's brightest and friendliest individuals to be part of their crew and it really shows! Each flight attendant is ever-ready to help you with all your needs and make you as comfortable as possible. Want some extra bread or need more pillows? The flight attendants will bring it to you with a smile in no time!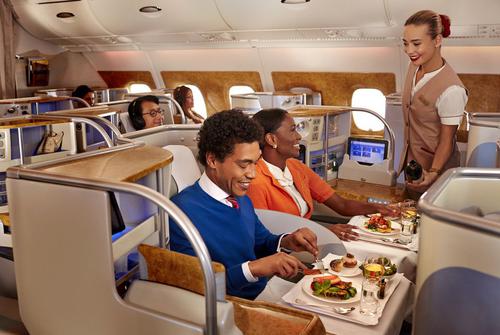 6. Delectable in-flight meals
Think airplane meals are bland and disgusting? Think again! High-quality and fresh ingredients are prepared by international chefs to make the best in-flight meals you'll ever taste. If you have any allergies or food restrictions, you can even request your food to be vegan, gluten-free, halal, etc. by telling them in advance through their website. Also, did you know that Emirates offer free ice cream during their flights? I don't think other airlines offer ice cream. So, that's really great for people who have sweet tooth like me.
7. Dubai stopover
Stopovers may sound annoying, but with Emirates, you can have a luxurious desert adventure in Dubai. Every flight has a stopover in Dubai and you can choose to extend the stopover and hang out, shop, or simply relax in Dubai for a few days! I personally stayed in Dubai for a night to go shopping and sightseeing during my stopover. I had the most amazing time with my friends there! It's like getting a bonus vacation in the middle of your trip.
8. Exclusive airport lounge
This is a great perk for First Class and Business Class flyers. The Emirates airport lounge is a luxurious and comfortable area to wait in for your flight. With soft and comfortable seating, professional attendants, free Wi-Fi, complimentary food and drinks, and countless forms of entertainment, what more can you ask for?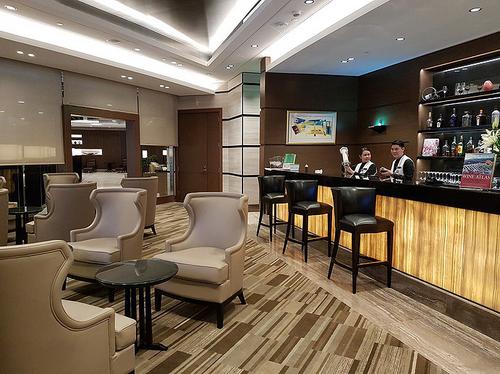 9. Private chauffeur-drive service
Flying in First Class or Business Class gives you amazing perks and this is one of them. With their exclusive private chauffeur service, you don't need to worry about getting a taxi or getting to the airport on time. With a simple booking, a private driver will come over to your house to pick you up and drive you to the airport.
10. Amazing reward program
Emirates have an amazing reward system which allows you to gain points and miles with each flight. Once you've collected enough, they can be traded for a bunch of interesting benefits such as free upgrades and free flights. The best thing about this reward program? You can collect and use the miles on other flights as long as they're partners with Emirates, such as Qantas, Jetstar, Virgin America, and Korean Air.
The FAQ for Booking a Flight with Emirates
Ready to book a flight with Emirates? Great! Here are some frequently asked questions and their answers to help you with the booking process.
What's an online booking and how can I use it?
Online booking is a safe and convenient way to book your flights with Emirates using the internet. With online booking you can:
Build an itinerary to suit your travel plans.
Request special services, seating arrangements, and special meals.
Pay online securely using a credit card. Simply go to the Emirates website, choose your destination and dates, choose a suitable flight, confirm your personal details, and decide how you'd like to pay for your tickets. You can purchase a ticket 328 days before the travel date.
What's an electronic ticket?
Emirates only issue electronic tickets for every flight. After you book a flight with Emirates, your personal and booking data are stored in the system and you'll receive an electronic ticket via email. You simply need to bring your receipt and passport to the airport when it's time to travel.
What's my allowance for checked baggage?
Economy Class passengers are allowed up to 35 kg
Business Class passengers are allowed up to 40 kg
First Class passengers are allowed up to 50 kg
Passengers can have as many checked in baggage as they wish as long as the total - weight stays within the limitations
One checked baggage can't weigh more than 32 kg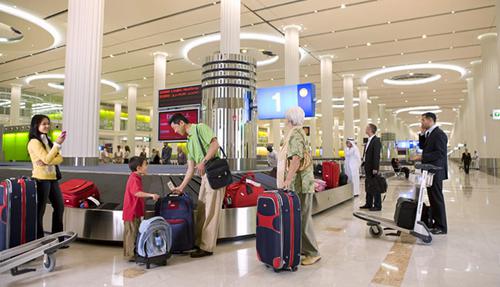 What's the time limitation on online check-in?
With Emirates, you have the option of online check-in between 24 hours to 90 minutes before the flight's departure.
Please note that there may be a cancellation fee depending on your ticket fare conditions and some tickets are non-refundable. You can consider changing your booking details instead by using the Manage a Booking link.
Can I cancel my booking?
Yes, if you book directly with Emirates, you can cancel the booking and request a refund by using a link to Manage a Booking. If you book your flight through a travel agent, please contact your travel agent to request a refund.
The Final Word
Flying with Emirates is definitely one of the best experiences you can have in your life. Whether you're a first-time flyer or a seasoned traveler, you're bound to enjoy your time with Emirates and its crew. So, pamper yourself and book a flight with Emirates for your next trip. Have a safe and comfortable flight with Emirates!